The 2014 Chevrolet Equinox from used car dealers in Redmond, OR is a competitive compact crossover that has withstood the test of time. The 2014 Chevrolet Equinox is a real competitor, boasting more guts, power, and performance than its predecessors. Whether you are running errands or going on a trip with the family, this compact SUV will take care of you and your folks.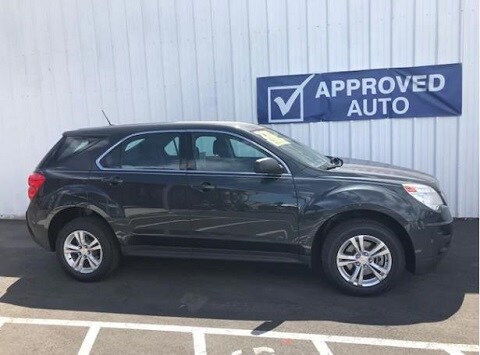 Respectable Safety Features
The 2014 Chevrolet Equinox remains as one of the safest vehicles on the market today. This charmer boasts a fantastic 4-star rating from the National Highway Traffic Safety Administration (NHTSA). Tried-and-tested by experts, this compact crossover was also one of the Top Safety Picks of the Insurance Institute for Highway Safety (IIHS) when it hit the market in 2014.
The 2014 Chevrolet Equinox truly never leaves comfort for driving excitement. Its airbags are well-positioned to protect the driver and passengers in the event of any collision. It also boasts a 4-wheel ABS and electronic stability control that help maintain proper control at all times.
Good Fuel Economy
Comprehensive family use was definitely in the minds of Chevrolet when they designed the Equinox, and the result is a mid-sized SUV with fantastic fuel economy for its class. The standard four-cylinder 2.4L engine offers 32mpg on the EPA's highway test. Overall, the 2014 Chevrolet Equinox offers a great 26 combined mpg. Despite all these, the Equinox delivers excellent handling, requiring minimal effort to maneuver, something that new drivers will appreciate.
Premium Look Inside and Out
The 2014 Chevrolet Equinox had a head start on its competition with its amazing features. The Equinox comes in four trim levels: LS, 1LT, 2LT, and LTZ, providing car lovers with more options. On the outside, this charmer is built with a power liftgate, power sunroof, and heated side mirrors. Its interior highlights surprise every passenger with heated front seats, automatic climate control, rear-seat entertainment system, Pioneer premium stereo, and more!
Interior roominess is one of its greater suits with 39.9 inches of legroom in the back seat. Say goodbye to leg cramps and neck spams as the Equinox allows its passengers to enjoy the ride with maximum comfort.
The Ultimate Crossover for All Ages
With the 2014 Chevrolet Equinox, surprises are limitless. The Equinox ensures safety in all road adventures with its rear park assists, lane departure warning, and antilock brakes, among others. The 2014 Equinox is specially made to provide families with a comfortable hauler that's larger than its predecessors but compact enough to ease parking.
Enjoy a comfortable highway ride with the 2014 Chevrolet Equinox. Ready to experience this roomy cargo space? Drop by our showroom at Approved Auto of Central Oregon. Our team of specialists is always happy to assist you with anything auto.