The 2017 Ford Fusion from used car dealers in Bend, OR drives like it hasn't aged a day. This midsized sedan had earned top marks when it was first launched, and as a used car in Bend, OR, it adds even more value on top of the many excellent features it offers. If you're looking for a commuter or a second family car, you should consider the 2017 Ford Fusion.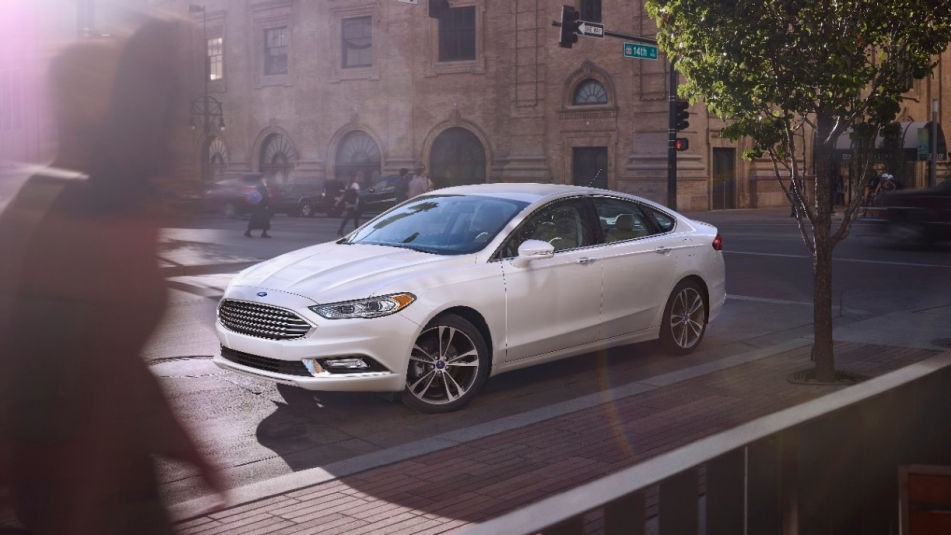 Lasting Exterior Style
The 2017 Ford Fusion is still one of the more attractive cars in this class. Many midsize sedans play it safe with bland, conservative styling that makes them instantly forgettable, but not the Fusion.
In contrast, Ford's sedan is striking with its hard edges and straight lines. The re-sculpted tail and the tighter front end add more grace to the exterior. The grille is sleeker and a bit wider, and the chrome strip on the trunk is a nice touch. Enjoy the 2017 Ford Fusion's enduring good looks for years to come.
Take it For a Spin
The 2017 Ford Fusion remains one of the most fun and capable sedans on the market today. The 2.0L I-4 Cyl engine offers more than enough power to make for easy commuting or breezing down the highway. Expect very little wind and road noise inside the quiet cabin. The suspension smoothly absorbs road imperfections before you can feel them.
Around corners, the 2017 Fusion operates with a firm, reassuring manner. The steering is incredibly taut and absorbent, while ride and handling are still top-notch. Nimble and eager, the 2017 Ford Fusion continues to deliver impressive performance.
Comfortable and Well-Built
Meant to be a daily driver, you can hit the road for hours in the 2017 Ford Fusion without getting uncomfortable. The seats are supportive, and you get plenty of legroom whether you're in the front or the second row. There's also a lot of useful storage space in the center console and all four doors.
As for cabin build, there's no shortage of high-quality materials inside. Everything feels and looks substantial. Vibrations and noise are greatly suppressed for a pleasant experience even during rougher drives. Subtle cues like the sound of the doors as they open create an overall impression of thoughtful and solid craftsmanship.
Strong Sense of Safety
For 2017, Ford updated the Fusion's safety systems to put it up to par with its key competitors. As a result, the 2017 Ford Fusion received top-tier ratings from various safety agencies.
Some features you can look forward to are the lane keeping system, adaptive cruise control, and enhanced Park Assist. There is also a driver alert system should you ever lose focus and the 2017 Ford Fusion is equipped with an innovative inflatable rear seatbelt system that you can find on Ford's bigger crossovers as well.
The 2017 Ford Fusion is still a highly-recommended midsize sedan even when pitted against newer rivals. Ready to discover why it's still one of the best entries in such a competitive segment? Give us a visit at Approved Auto of Central Oregon and get behind the wheel of the 2017 Ford Fusion!